Cert. + membership
U.S Cotton Trust Protocol

• It brings quantifiable and verifiable goals and measurement to sustainable cotton production and drives continuous improvement in key sustainability metrics.

• The Trust Protocol underpins and verifies U.S. cotton's sustainability progress through sophisticated data collection and independent third-party verification.

• The Trust Protocol will provide brands and retailers the critical assurances they need that the cotton fiber element of their supply chain is more sustainably grown with lower environmental and social risk.

GCS

•The Good Cashmere Standard is formed by the Aid by Trade Foundation, setting a new benchmark for the production of sustainable cashmere in Inner Mongolia.

•The Standard incorporates the Five Freedoms as defined by the Farm Animal Welfare Council. The Good Cashmere Standard follows three main principles: promote animal welfare in cashmere production, support cashmere farmers to secure a sustainable source of income, and protect the environment.

ICCAW

• Supporting Animal Welfare,Sharing a Better Life

• ICCAW is affiliated with China Association for the Promotion of International Agricultural Cooperation (CAPIAC). It is a non-profit organization approved by Ministry of Agriculture and Rural Affairs of the People's Republic of China and registered at the Ministry of Civil Affairs in June 2013. As a leading farm animal welfare organization in China, ICCAW is dedicated to promoting animal welfare concepts, implementing animal welfare-friendly farming systems and improving the quality and safety of livestock products.

RWS

• The RWS is an independent, voluntary standard. On farms, the certification ensures that sheep are treated with respect to their Five Freedoms and also ensures best practices in the management and protection of the land.
• Through the processing stages, certification ensures that wool from certified farms is properly identified and tracked.

Woolmark

• The Woolmark brand is the world's best-known textile quality fibre brand. The value of the brand is well established and highly regarded across the world in the apparel, interior textiles and home laundry sectors.
• As one of the world's most well-known brands the Woolmark logo has been applied to more than 5 billion products since the creation of the original mark in 1964.

BCI cotton

• The Better Cotton Initiative is a socially responsible programme which stewards global standards to transform cotton production and make it better for the people who produce it, and better for the environment.
• It brings together cottons complex supply chain, from the farmers to the retailers, to support and to educate.

The OEKO-TEX® Standard 100

• The OEKO-TEX® Standard 100 is an independent testing and certification system for textile raw materials, intermediate and end products at all stages of production. Examples for items eligible for certification: Raw and dyed/finished yarns, raw and dyed/finished fabrics and knits, ready-made articles (all types of clothing, domestic and household textiles, bed linen, terry cloth items, textile toys and more).

GRS

• The Global Recycle Standard has been developed to meet demands, in the textile industry and beyond, for verification of the amount of recycled parts or ingredients in a given product.
• The GRS provides a track and trace certification system that ensures that the claims made about a product can be officially backed up.
• In order to gain GRS process certification, all the companies involved in the manufacture and trading of your products, including suppliers of half-finished products, have to comply with the GRS standard.

GOTS

• A textile product carrying the GOTS label grade 'organic' must contain a minimum of 95% certified organic fibres whereas a product with the label grade 'made with X% organic' must contain a minimum of 70% certified organic fibres.
• All chemical additives, such as dyes, adjuvants, must meet certain environmental standards and toxicology standards.
• All water treatment-related production must be accompanied by an effective sewage treatment plant, and all treatment equipment must meet minimum social standards.

OCS

• The Organic Content Standard (OCS) applies to any non-food product containing 5%-100% organic material.
• It allows for transparent, consistent and comprehensive independent evaluation on and verification of organic material content claims on products.
• It can be used as a business-to-business tool to give companies the means to ensure that they are getting what they are paying for and selling.

ISO

• ISO is an independent, non-governmental international organization with a membership of 163 national standards bodies.
• Through its members, it brings together experts to share knowledge and develop voluntary, consensus-based, market relevant International Standards that support innovation and provide solutions to global challenges.

Supima

since 2017

• SUPIMA is known as the world's finest cottons. Each year over 120 million bales of cotton are produced around the world. Of this total harvest, less than 1% or approximately 5-800,000 bales are good enough to be eligible to carry the SUPIMA® name. SUPIMA, short for Superior Pima, is renowned for its softness, superior fibre length, strength and natural lustre.

Intertek

• Authoritative approval for chemical safety of chemicals
×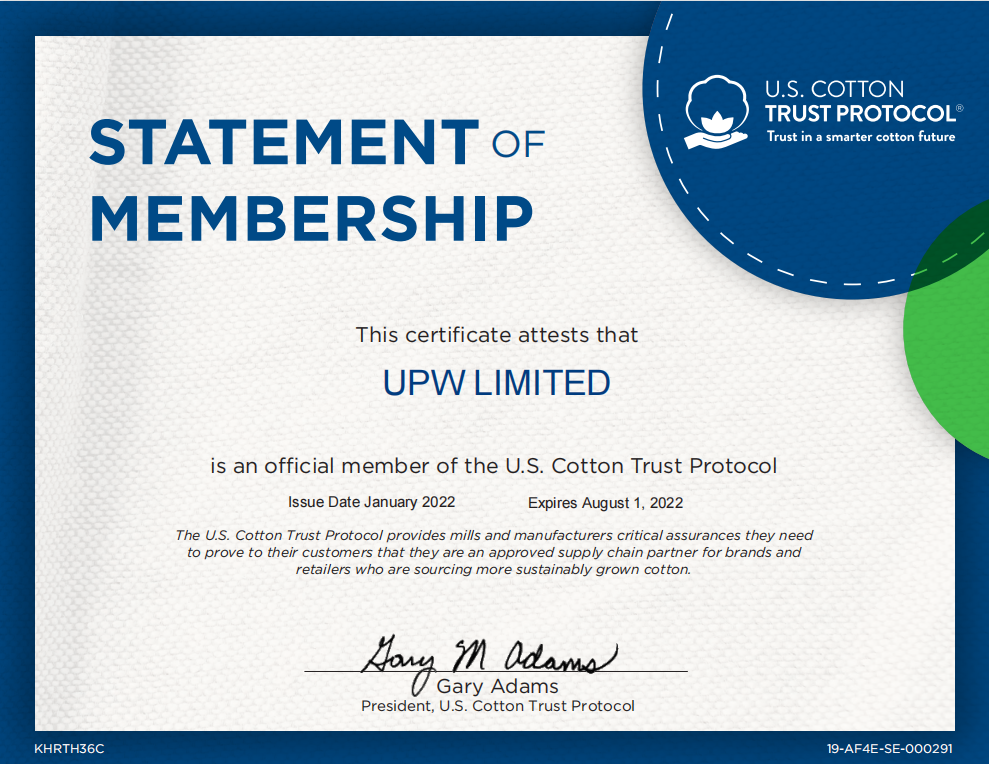 • It brings quantifiable and verifiable goals and measurement to sustainable cotton production and drives continuous improvement in key sustainability metrics.
• The Trust Protocol underpins and verifies U.S. cotton's sustainability progress through sophisticated data collection and independent third-party verification.
• The Trust Protocol will provide brands and retailers the critical assurances they need that the cotton fiber element of their supply chain is more sustainably grown with lower environmental and social risk.
×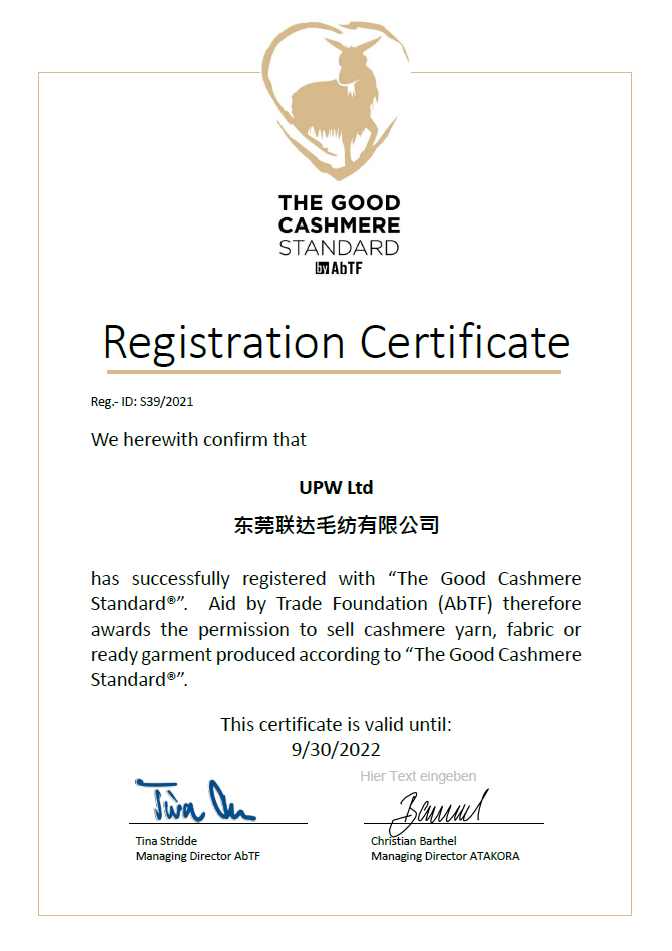 •The Good Cashmere Standard is formed by the Aid by Trade Foundation, setting a new benchmark for the production of sustainable cashmere in Inner Mongolia.
•The Standard incorporates the Five Freedoms as defined by the Farm Animal Welfare Council. The Good Cashmere Standard follows three main principles: promote animal welfare in cashmere production, support cashmere farmers to secure a sustainable source of income, and protect the environment.
×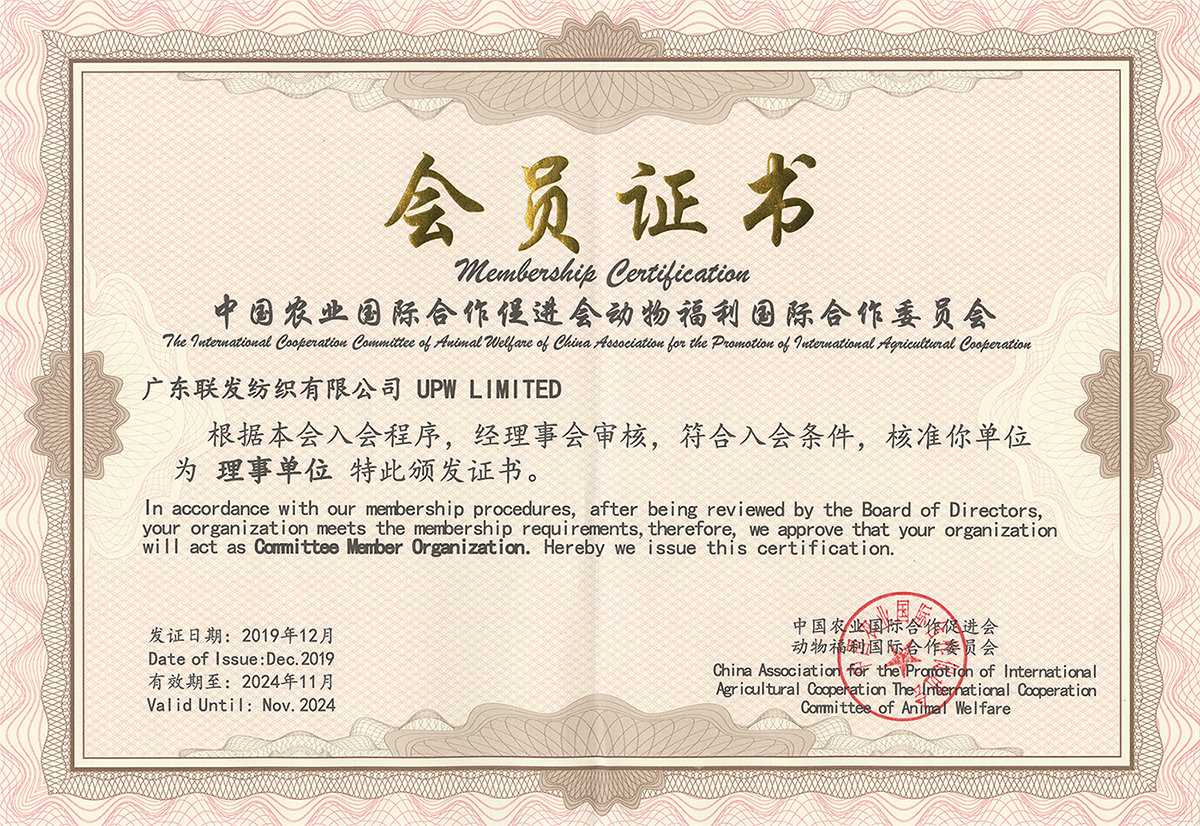 • Supporting Animal Welfare,Sharing a Better Life
• ICCAW is affiliated with China Association for the Promotion of International Agricultural Cooperation (CAPIAC). It is a non-profit organization approved by Ministry of Agriculture and Rural Affairs of the People's Republic of China and registered at the Ministry of Civil Affairs in June 2013. As a leading farm animal welfare organization in China, ICCAW is dedicated to promoting animal welfare concepts, implementing animal welfare-friendly farming systems and improving the quality and safety of livestock products.
×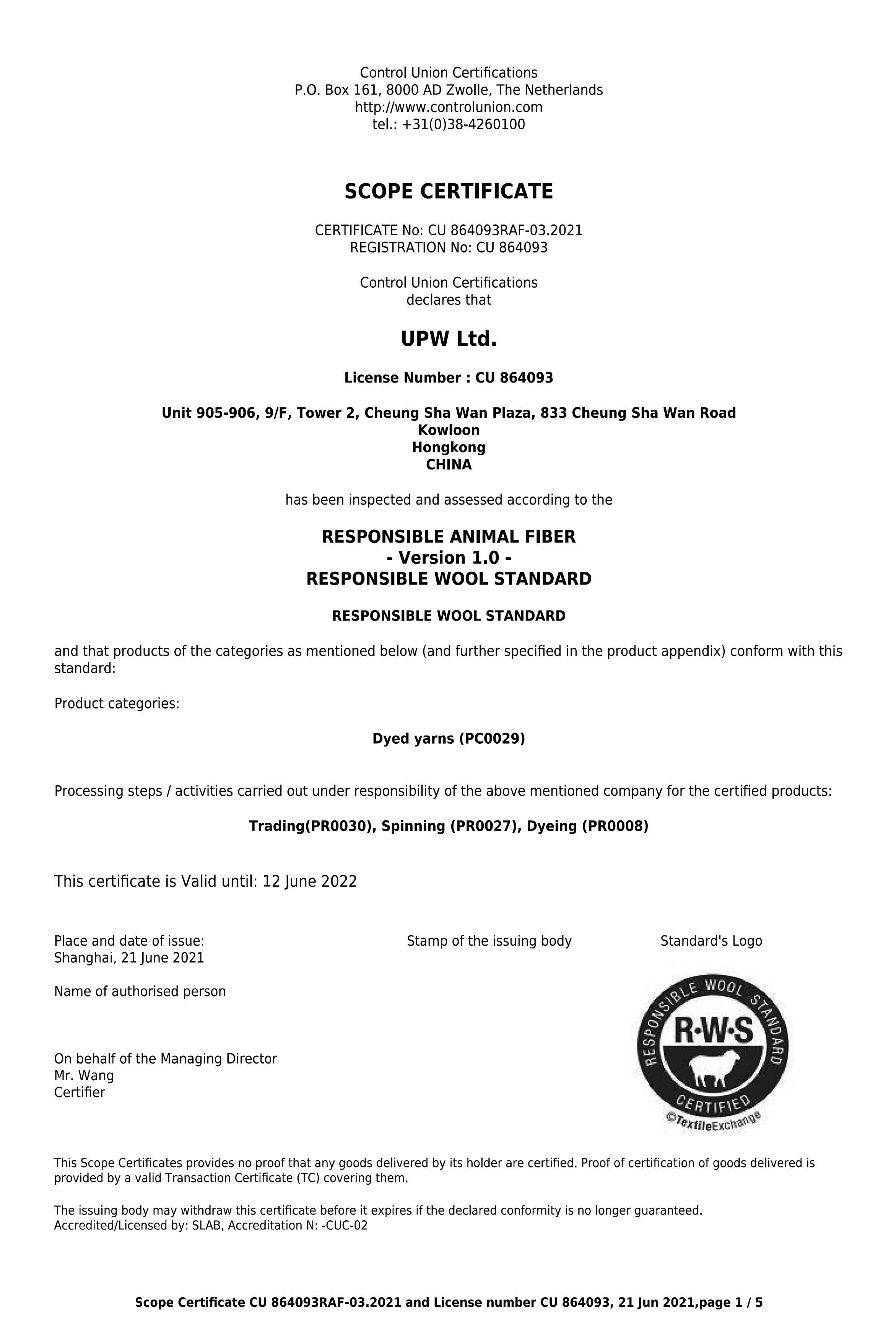 • The RWS is an independent, voluntary standard. On farms, the certification ensures that sheep are treated with respect to their Five Freedoms and also ensures best practices in the management and protection of the land.
• Through the processing stages, certification ensures that wool from certified farms is properly identified and tracked.
×
• The Woolmark brand is the world's best-known textile quality fibre brand. The value of the brand is well established and highly regarded across the world in the apparel, interior textiles and home laundry sectors.
• As one of the world's most well-known brands the Woolmark logo has been applied to more than 5 billion products since the creation of the original mark in 1964.
×
• The Better Cotton Initiative is a socially responsible programme which stewards global standards to transform cotton production and make it better for the people who produce it, and better for the environment.
• It brings together cottons complex supply chain, from the farmers to the retailers, to support and to educate.
×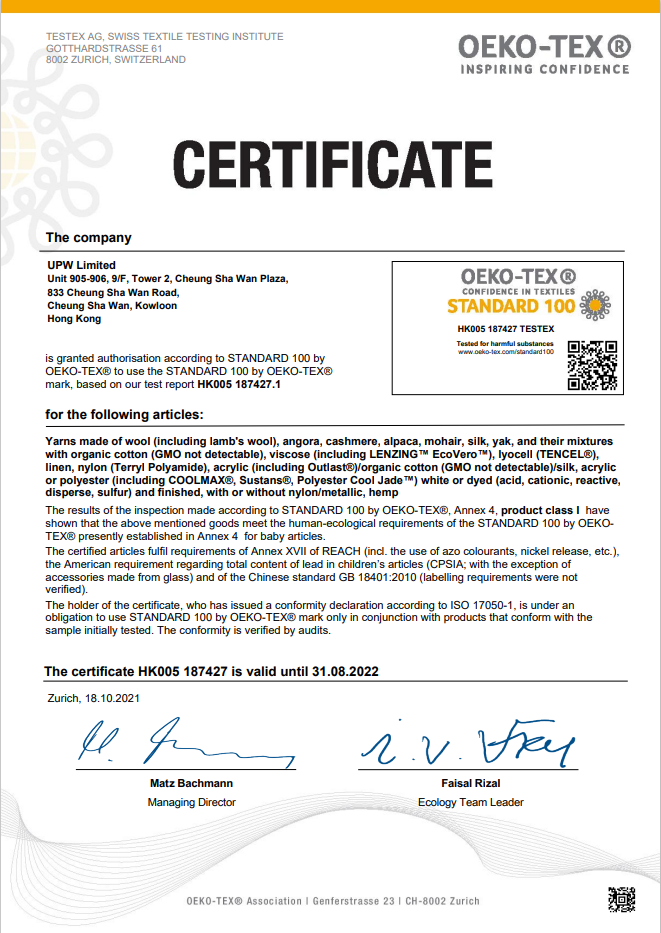 • The OEKO-TEX® Standard 100 is an independent testing and certification system for textile raw materials, intermediate and end products at all stages of production. Examples for items eligible for certification: Raw and dyed/finished yarns, raw and dyed/finished fabrics and knits, ready-made articles (all types of clothing, domestic and household textiles, bed linen, terry cloth items, textile toys and more).
×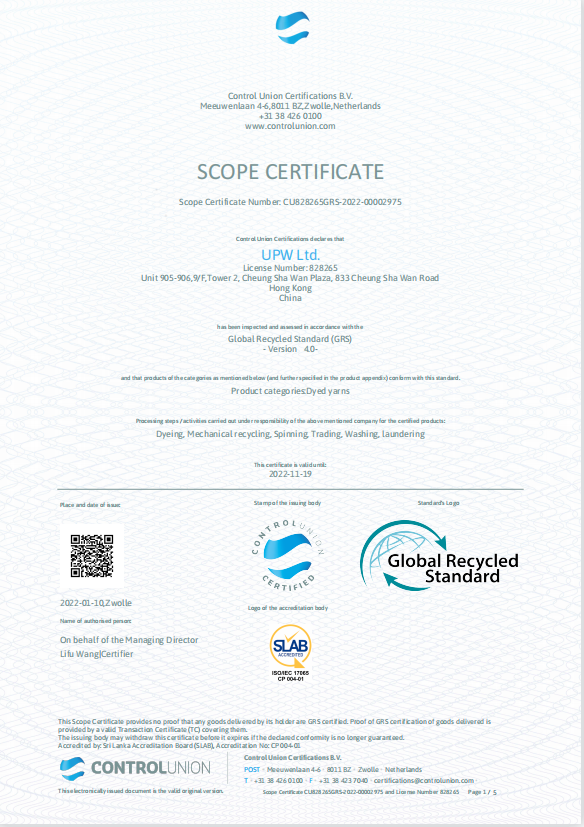 • The Global Recycle Standard has been developed to meet demands, in the textile industry and beyond, for verification of the amount of recycled parts or ingredients in a given product.
• The GRS provides a track and trace certification system that ensures that the claims made about a product can be officially backed up.
• In order to gain GRS process certification, all the companies involved in the manufacture and trading of your products, including suppliers of half-finished products, have to comply with the GRS standard.
×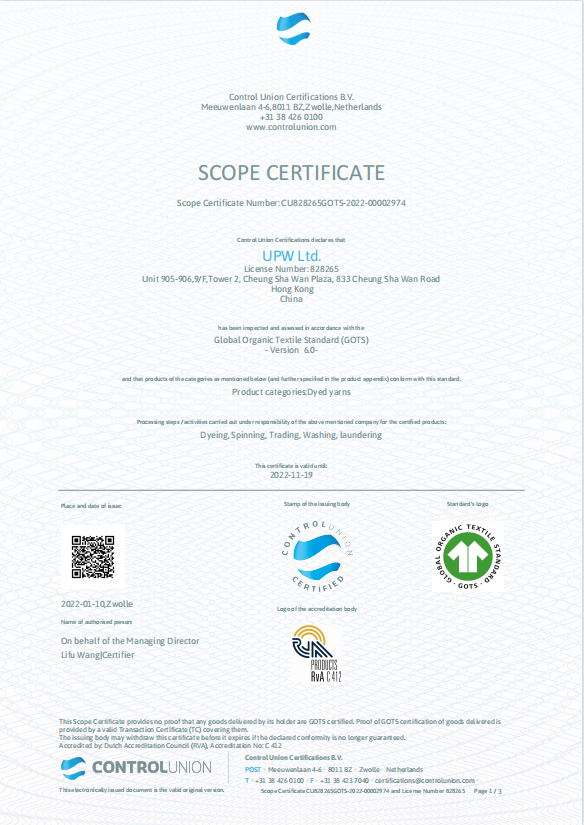 • A textile product carrying the GOTS label grade 'organic' must contain a minimum of 95% certified organic fibres whereas a product with the label grade 'made with X% organic' must contain a minimum of 70% certified organic fibres.
• All chemical additives, such as dyes, adjuvants, must meet certain environmental standards and toxicology standards.
• All water treatment-related production must be accompanied by an effective sewage treatment plant, and all treatment equipment must meet minimum social standards.
×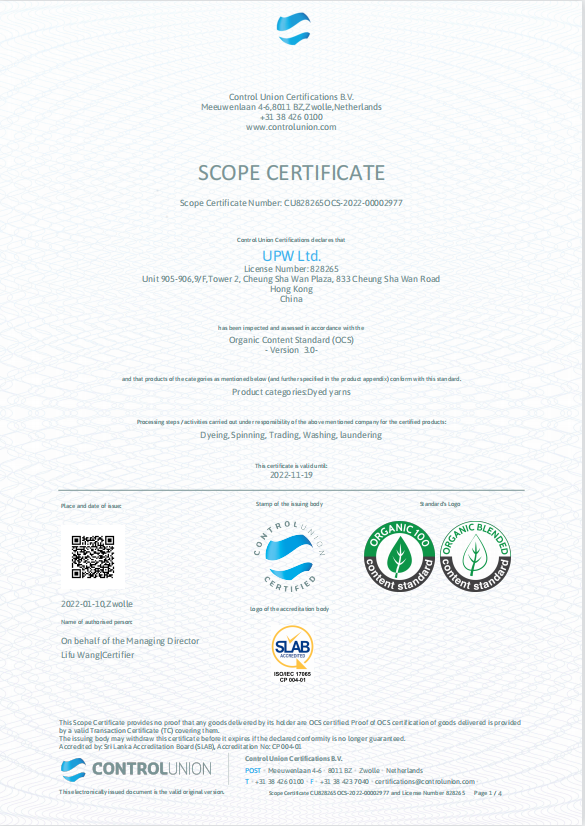 • The Organic Content Standard (OCS) applies to any non-food product containing 5%-100% organic material.
• It allows for transparent, consistent and comprehensive independent evaluation on and verification of organic material content claims on products.
• It can be used as a business-to-business tool to give companies the means to ensure that they are getting what they are paying for and selling.
×
• ISO is an independent, non-governmental international organization with a membership of 163 national standards bodies.
• Through its members, it brings together experts to share knowledge and develop voluntary, consensus-based, market relevant International Standards that support innovation and provide solutions to global challenges.
×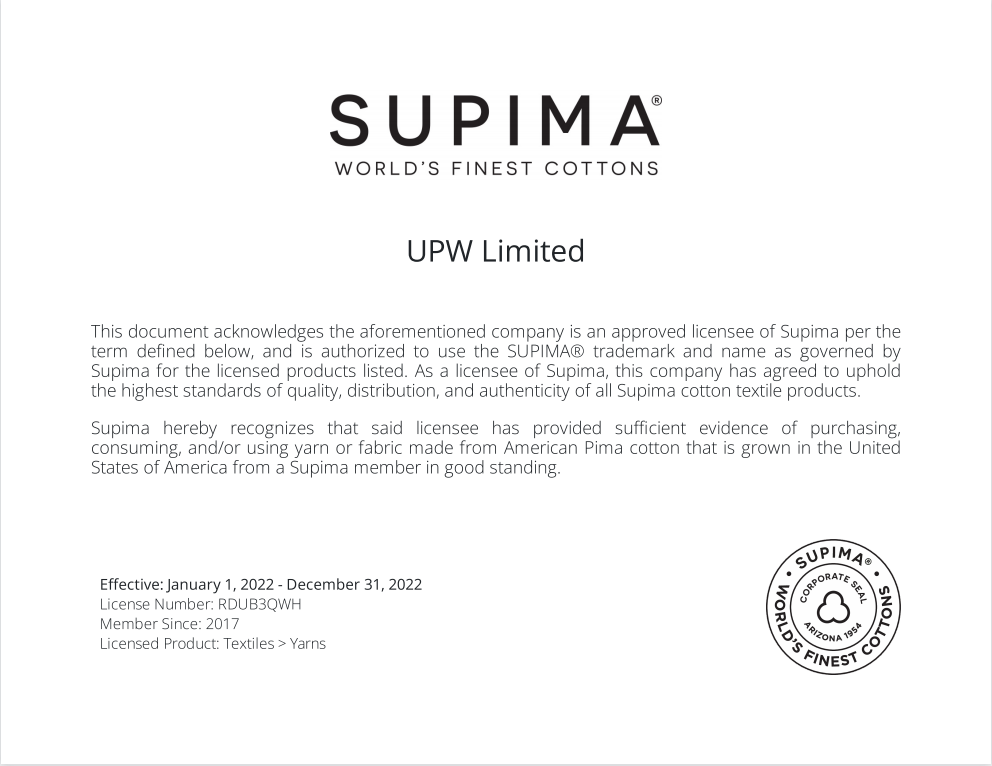 since 2017
• SUPIMA is known as the world's finest cottons. Each year over 120 million bales of cotton are produced around the world. Of this total harvest, less than 1% or approximately 5-800,000 bales are good enough to be eligible to carry the SUPIMA® name. SUPIMA, short for Superior Pima, is renowned for its softness, superior fibre length, strength and natural lustre.
×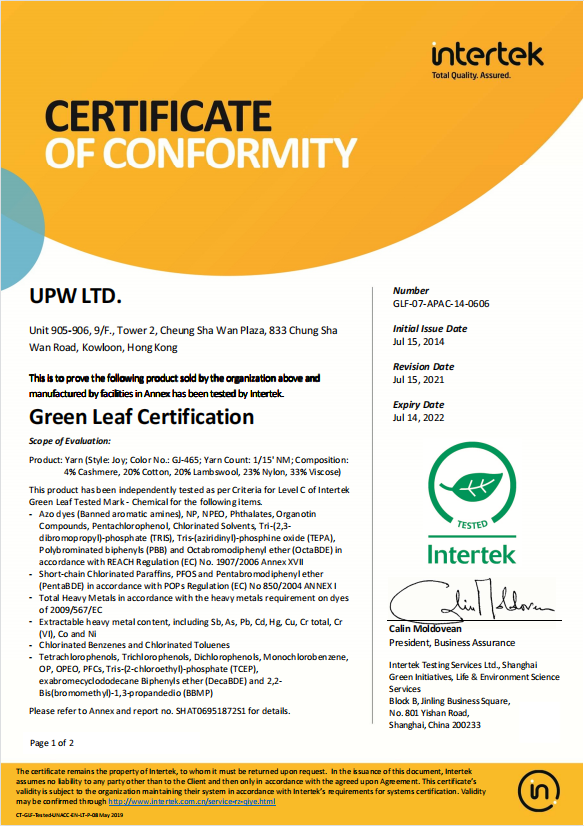 • Authoritative approval for chemical safety of chemicals